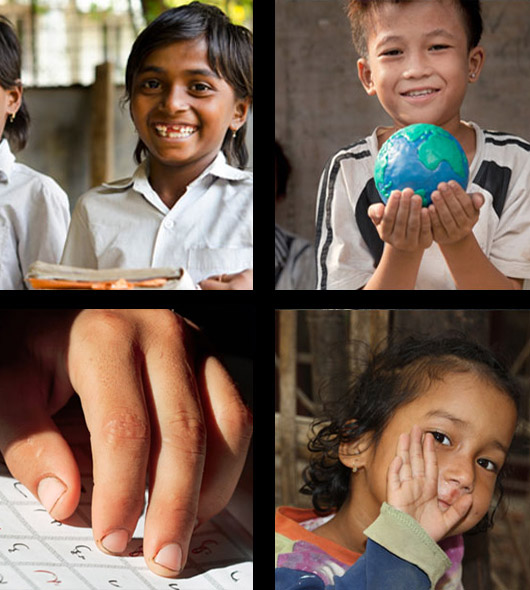 Mission
"Give a man a fish and you feed him for a day. Teach a man to fish and you feed him for a lifetime." - Chinese Proverb
Size Foundation's mission supports solutions that "teach a man to fish". Our work primarily focuses on education as the means to empower children and young adults so they can take ownership of their lives. It is the foundation's belief that the best way to affect communities and societies is by giving education to children and youth.
AIM: Size Foundation wants to support local involvement and self-sufficiency within communities through educational means.
This is the path to a sustainable future. Size Foundation's philosophy is based on the "Seven Generation Sustainability" inspired by the Great Law of the Iroquois. This philosophy states that all decisions should be wisely considered for their future impact on the children of the seventh generation. The Foundation believes education encourages and ignites positive change that strengthens present and future communities. This will in turn support and empower the children of the seventh generation.
OBJECTIVE: To support children and young adults in creating an empowered and sustainable future.
To fulfill the aim, the Foundation's objectives are the following:
To give humanitarian and educational support to children and young adults.
Offer grants to individuals who work for the betterment and empowerment of the children and young adults in their communities.
VALUES: Compassion   Empowerment   Sustainability
Compassion: Every child and young adult deserves an opportunity to fulfill their dreams, regardless of their current life situation.
Empowerment: The Foundation believes knowledge is power. Therefore it seeks to offer children and young adults various educational opportunities so that they can take ownership of their lives.
Sustainability: The Foundation holds the belief that education has the potential to transform the lives of people and build stronger social relationships within communities. Education is an investment that will have a positive impact in each future generation.
VISION: A better world begins with us – TOGETHER we can make a difference.