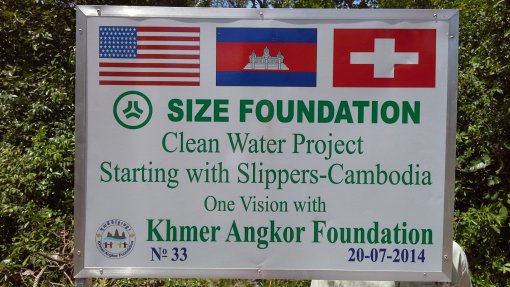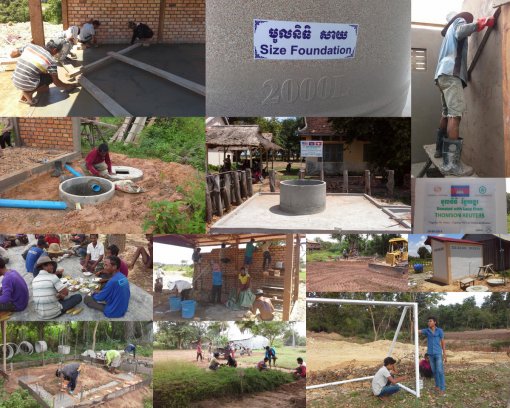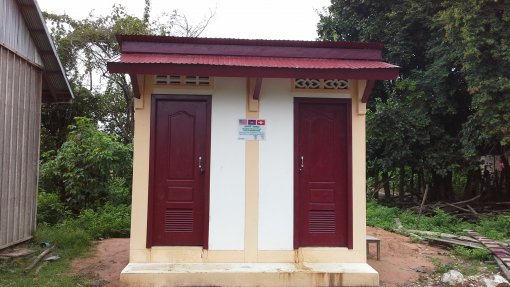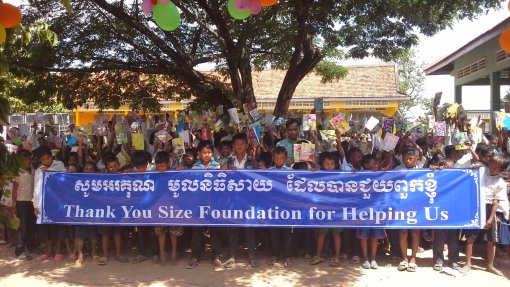 Cambodian Results
Posted: September 30, 2014
As a reminder, Size Foundation's engagement in the Siem Reap province in Cambodia centres on four primary schools (Sleng Spean, Chomka Chek, Phnom Dey and Phnom Srey Snom Primary School) with a total of 1500 attending children.
We are very pleased to inform about the completion of the goals we set out in 2014, which can be listed as follows:
- Uniforms: uniforms have been purchased for 300 children and 44 faculty members (divided between the four schools)
- School Supplies: With the school season finishing at the end of June, all the children have received a school certificate as recognition of efforts made together with a bag of new school materials. A similar event and reward is planned to take place at the end of December.
*Chomka Chek Primary School: Water Well: 100% completion. Bathhouse: 100% completion. Football Pitch: 85% completion.
*Sleng Spean Primary School: Water Well: 100% completion. Bathhouse: 100% completion. Football Pitch: 75% completion.
*Phnom Dey Primary School: Water Well: 100% completion. School already has a bathhouse. Upon the request of our trusted local Khmer contact Nak, the allocated money instead went to build a bathhouse at the neighbouring Phnom Dey West Primary School. Bathhouse: 45% completion. (Will be done by the end of October)
*Phnom Srey Snom Primary School: Bathhouse already exists. Water Tank (2000L): 100% completion (impossible to dig water well due to mountainous rocks and stone in the ground. Instead a water tank was chosen as best alternative option.)
- Football Pitches have been completed at Chomka Chek and Sleng Spean Schools, with ground flattened and grass planted before the rainy season started in July. Goal bars are set up. Football tournament (including girl teams) will be held this autumn and for years to come.  
- Teacher salaries increase by 10% in the form of a bonus, end December 2014.
During the summer break, Nak had asked all teachers from the four schools to come and help with the construction work. In addition, all the work force were in fact local villagers and parents who came to help out and who worked without any compensation. As a sign of gratitude, Size Foundation ensured a festive gathering could be held with generous food and meat. A joyous day was spent celebrating a job very well done.
Last but not least, we wish to extend an indispensable THANK YOU to Nak who sacrificed time with his family and who spent the whole summer monitoring the work at the schools. He is the sole force behind completion of the goals set out. He writes to us that (on behalf of the children) he does not have words to express their gratitude and how they consider themselves to be the luckiest people in the world. He says they wonder- "..without Size Foundation and its supporters, what would have happened to us?"
We are extremely proud to have collaborated with Nak and we thank you all for your support; especially Thomson Reuters for enabling us to achieve the goals set out and improve the lives of the children.
TOGETHER WE MATTER - TOGETHER WE CAN MAKE A DIFFERENCE